In 2021, the share of employed people in the EU population was 73.1%, which corresponds to 189.7 million people. The labor market was affected by COVID-19 related restrictions in 2020, showing a 1 percentage point (pp) drop in the employment rate compared to 2019 (72.7% last year), but s then recovered in 2021 with an increase of 0.4 pp compared to 2019.
Among EU Member States, the employment rate was above 78% (one of the three targets set in the 2030 Action Plan of the European Pillar of Social Rights) in eight EU Member States. The Netherlands (81.7%), Sweden (80.7%) and Czechia (80.0%) recorded the highest employment rates, with at least 8 in 10 people aged 20 to 64 years old with a job in 2021.
At the same time, less than 70% of the population aged 20-64 worked in Croatia (68.2%), Spain (67.7%), Romania (67.1%), Italy (62 .7%) and in Greece (62.6%).
Source dataset: lfsi_emp_a
16 EU member states reach or exceed pre-pandemic level in 2021
Regarding the impact of COVID-19 on employment, in 2020 only four of the 27 EU Member States recorded an increase in the share of employed people, namely Malta, Poland, Croatia and Romania. However, the increase was less than 0.5 pp. During this period, Austria (-2.0 pp), Spain (-2.3 pp), Greece (-2.5 pp) and Ireland (-2.9 pp) recorded the highest sharp declines in the employment rate.
In 2021, in 16 of the 27 EU Member States, the employment rate reached or exceeded the pre-pandemic level recorded in 2019. The highest increases from 2019 to 2021 were recorded in Poland (+3 .1 pp), Romania (+2.0 pp) and Greece and Malta (+1.8 pp each).
On the other hand, 11 countries lag behind, posting a lower employment rate in 2021 than in 2019. The largest decreases compared to 2019 were recorded in Latvia (-2.0 pp), Estonia and Austria (-1.2 pp each), Bulgaria (-1.1 pp) and Slovakia (-1.0 pp).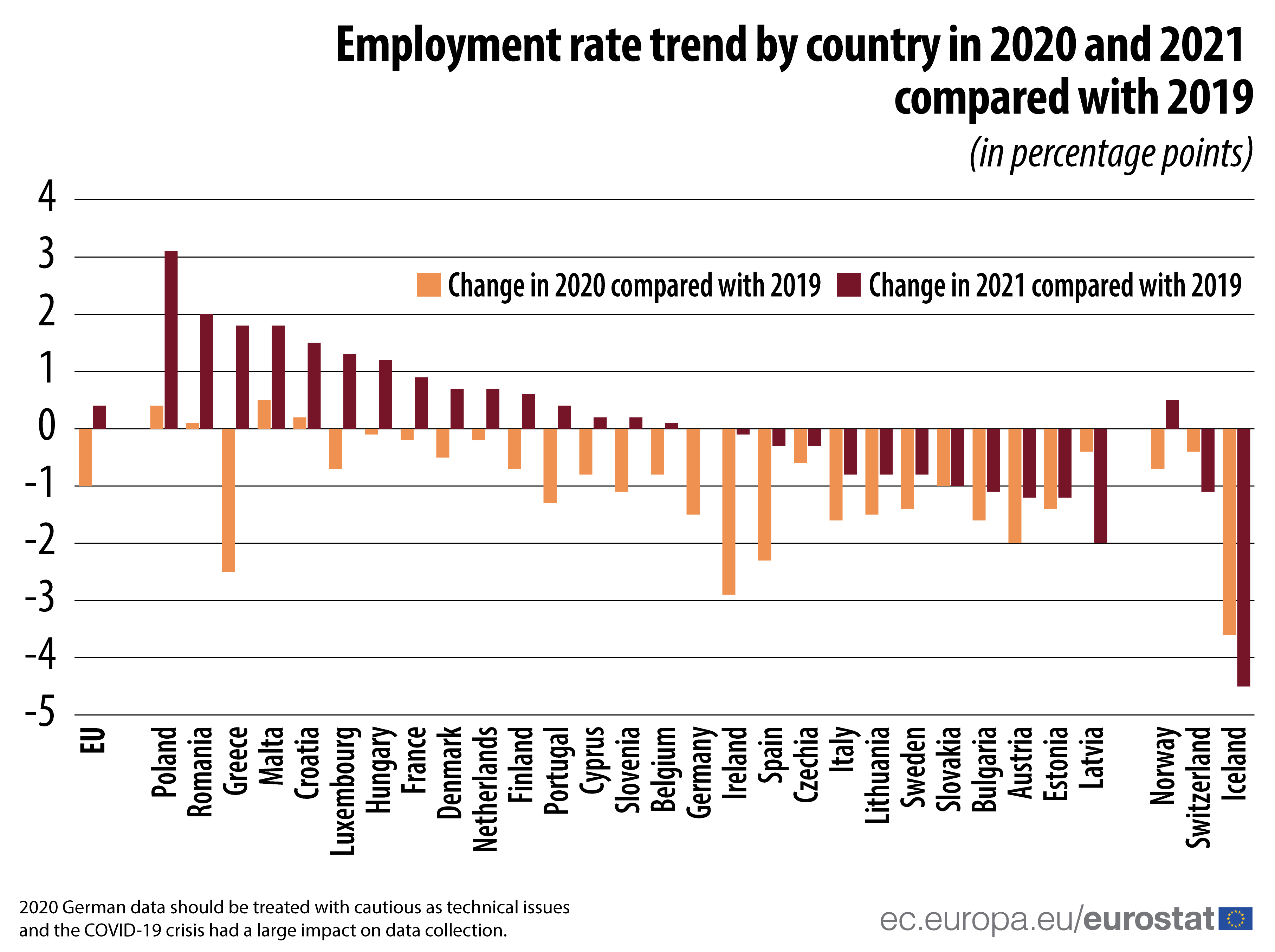 Source dataset: lfsi_emp_a
For more information:
Remarks:
The European Commission, the European Parliament and the Council launched in 2017 the European Pillar of Social Rights, an action plan setting out principles and rights for fair and well-functioning labor markets and social protection systems in Europe of the 21st century. Achieving an employment rate of 78% in the European Union is one of the three objectives set for 2030.
To contact us, please visit our user support page.
For press inquiries, please contact our Media Helpline.